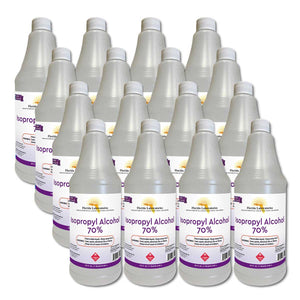 Isopropyl alcohol 70% pure. High Quality. Allow Florida Laboratories Inc. to supply all your Isopropyl Alcohol needs. Anhydrous supplier, fast shipping, informative lab offering top quality products and chemicals to customers nationwide.
Rubbing or isopropyl alcohol is a common and versatile item.
USES
Evaporates with no residues
Bulk packed in gallons for economical use
KEY FEATURES
Our Isopropyl Alcohol is 70% Anhydrous and pure.
For external use only
Isopropyl Alcohol Anhydrous is also known as: 2-Hydroxy propane, 2-Hydroxypropane, Dimethyl carbinol, IPA, Isopropanol, Isopropyl Rubbing Alcohol, Isopropyl alcohol, Propan-2-ol, Propane, 2-hydroxy-, sec-Propanol, sec-Propyl Alcohol.
FEDEX ONLY (DO NOT SHIP TO PO. BOX, ALASKA, HAWAII, APO, PUERTO RICO, PROTECTORATES, NO INTERNATIONAL SHIPPING)