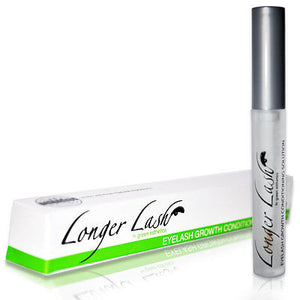 Organic
Longer Lash   
Your purchase includes:
 Longer Lash - Eyelash Growth Conditioning Solution with Box
(5 ml/ 0.17 oz)   

Easy Instructions Included
Longer Lash Solution
Longer Lash causes eyelashes to grow longer and thicker within 4-6 weeks with it's perfect blend of all natural ingredients plus polypeptides to encourage growth on a cellular level. Longer Lash is blended with a mix of potent polypeptides, vitamins, minerals, plus essential and natural oils to condition your eyelashes and brows encouraging growth and thickness.
Longer, Thicker and Fuller Lashes
Longer Lash's ingredients do not contain parabens, fragrance, phenoxyethanol or propylene glycol. 
See amazing results in just 4-6 weeks.
Longer Lash is an over-the-counter cosmetic product, not a prescription medication. 
Made in USA.
To purchase other items, please visit: 

 For questions as return, cancellation or shipment look our FAQ page.